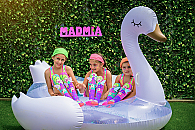 MADMIA SOCKS & CLOTHING
MADMIA SOCKS
Proudly born in Australia, MADMIA is a playful crazy socks brand that creates colourful socks with the aim to inspire creativity and self-expression. With an ethos of 'Why fit in when you were born to stand out?', MADMIA is passionate about producing silly socks that are truly extraordinary!
CRAZY FUN SOCKS
In the world of MADMIA, matching crazy socks are boring, but mixing them with different patterns and bright colours is super cool! That's why MADMIA started by designing mismatched crazy socks in each pair sold, allowing you to style them in your own creative way.
COLOURFUL SOCKS SIZES
A range of colourful wacky socks is available for babies aged 1-2 as well as a MADMIA toddler range of crazy fun socks for kids aged 3-5. Our most popular crazy socks designs are ideally sized for kids & teens but can fit ages 6-99. MADMIA has some groovy socks designs for adults too. These bright & bold fun knee high socks in cool designs fire up the fun factor so you shine bright like a star!